Elisabeth continues to serve as an example of a unique path to holiness for many around the globe.
Book Review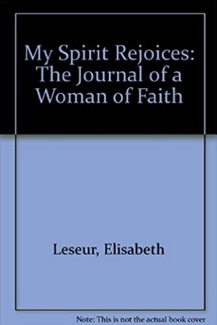 My Spirit Rejoices
Elisabeth Leseur
1996
Sophia Institute Press
252 pages
"My Spirit Rejoices" contains four distinct works of Elisabeth Leseur that her husband Felix calls in his introduction, "the history of a soul". These works were written by Elisabeth and intended only for her. They contain private thoughts and movements of her heart over a period of thirteen years concluding before her death in 1914. Felix's introduction to these works provides a brief biography of Elisabeth's life and insight into the suffering she endured. While the value of suffering is a recurring theme, particularly in its power to unite her to Christ, she also writes extensively on the call to love. She believes her apostolate is love of humankind through acts of charity that divine Providence would place in her path. The introduction is written by a proud husband, who's own life and faith were transformed by his wife's writing that was only revealed to him upon her death.
The four works of Elisabeth include The Journal, the Book of Resolutions, Daily Thoughts and the Spiritual Testament and are in chronological order. The Journal is not a collection of the events of her life, but is an outpouring of her deepest spiritual thoughts as the Spirit moved her. There is no consistency in the time or reasons for which she writes. Her Journal was written in two sections and covers a ten year period. The first covers the years 1899-1906 and the second covers 1911-1914. Readers may find it challenging to read the Journal without pausing as its passages are so rich with reflections from the Gospels or religious writer's words that inspired Elisabeth.
The first section of the Journal includes several moments of significance in her life for which she pours out her private prayers, many of them for the conversion of her husband. She writes in May of 1903 of a recent visit to Rome where she "made a solemn consecration of my soul and my life to God and to the task of charity and light that must be mine from this time forward." In this section she also describes her apostolate and the importance of the virtues she strives to perfect in herself, particularly charity. She includes the most intimate collection of prayers for her sister's healing. Following her sister's death, she writes of her "depths of anguish and sadness". While she acknowledges her suffering, she writes that there is "in my soul some central place, which all these waves of sorrow cannot reach. In this place is hidden all my inner life; there I can feel how completely united I am to God…".
The second section of her Journal begins after she meets Father R.P. Herbert, O.P. who would become for her "the guide of my soul". She writes more explicitly on the value of her suffering and her faith in Divine Providence. In her prayers she offers to "the beloved Master" her "Complete abandonment of myself to Thy Will, offering of my heart and my life in Thy service and for souls." Even while she struggles with declining health, she continues to focus on developing virtues and prays for humility. Her final Journal entry is written a few months before her death. Her final words continue her prayer for the uniting of her soul with the souls she loves and reaffirms her faith in the communion of saints.
The Book of Resolutions is a source of inspiration for anyone seeking to renew their faith. Elisabeth details her plans for special liturgical times of the year including advent and lent. She views each new year and season as an opportunity to renew and to strengthen her faith. She writes that the focus of her life is "Instaurare omnia in Christo" ("to restore all things in Christ"). The collection of Daily Thoughts captures beautiful short phrases as well as longer prayers on themes of suffering, charity and love. In chorus with the focus of her life, one of her powerful phrases is that "Christ must live in us, that we may give Him to others.".
Elisabeth's Spiritual Testament is a letter written to Felix as a "testament of her soul". She is completely confident of his conversion and upon her death expects he will become a disciple of Christ. She asks him to continue her apostolate of love for their extended family and friends. With her death, all the physical, mental and spiritual suffering Felix describes in the introduction must have reached a conclusion and revealed to him a greater meaning. He writes that he believes the "higher use of suffering is the chief thing her life teaches". Her private works have universal appeal for not only those that suffer, but to those who feel misunderstood, those who are grieving and those who struggle with their faith.
Short Bio of the life of Elisabeth and Felix Leseur
Elisabeth Arrighi Leseur was born in Paris in 1866. She was raised in a loving Catholic family. She would meet her husband Felix, also raised in Catholic family, in 1889 and they would marry just a few months later. Elisabeth would discover soon after their wedding that Felix had abandoned all his religious beliefs while studying medicine. He had not yet made this fact public to avoid disappointing his parents, especially his mother. However, several years into their marriage he would not only seek to eliminate Elisabeth's faith, but would begin publishing anticlerical articles and become more public in his loss of faith. Given Felix's loss of faith and the views of the society that surrounded her, Elisabeth reached the low point of her faith life in 1897. Despite their religious differences, Elisabeth and Felix were loving towards each other.
Both Felix and Elisabeth were well read. In 1898, Felix suggested the works of Ernest Renan, a brilliant but rationalist author. Elisabeth began La Vie de Jésus (The Life of Jesus). Rather than be persuaded by the work, she, perhaps moved by the Spirit, found flaws in the arguments. This reading and reflection would re-awaken her spiritual life. She would begin to record her thoughts and reflections in several journals.
Her journals capture her prayers and the development of a deep faith and trust in Divine Providence. Throughout her adult life Elisabeth encountered many health issues, including breast cancer, which would ultimately end her life in 1914. She often felt isolated and misunderstood in the social circles she found herself. Thus, her physical as well as mental and spiritual suffering are part of many of her private prayers. Rather than arguing anyone to faith, she simply sought to live out the Christian virtues quietly. In her journal, she also records her 1903 visit to Rome where she privately consecrated her life to God. In addition to her private journals, she also shared beautiful correspondence with people from a variety of backgrounds. Given her loving and gentle nature, many non-believers would seek her counsel.
Felix discovered Elisabeth's spiritual journals and correspondence following her death. In her journal, Elisabeth reveals her pact with God, whereby she offered her life for the conversion of her beloved husband. She believed that not only would God's grace inspire a change of heart for Felix, but she believed he would serve God as a Dominican priest. He originally sought to destroy the journal as part of a trip to Lourdes. He longed to discount the conversion and healing stories of Lourdes, along with the writings of his wife. However, upon reaching Lourdes he felt strongly Elisabeth's presence as well as God's presence and he would slowly begin his conversion back to Catholicism.
It was not so easy for Felix to become a Dominican priest. He would eventually need to plead his case to Pope Benedict XV, who initially forbade Felix to enter the priesthood. However, Pope Benedict would reverse his decision and in 1923 Felix was ordained. He would spend most of his ministry publishing Elisabeth's writings, both her spiritual journals and her correspondence. Felix had Elisabeth's works translated into several languages and thus her life and writings were shared very quickly with a wide audience. Felix would be instrumental in opening the cause for Elisabeth's canonization.
Elisabeth continues to serve as an example of a unique path to holiness for many around the globe. A group of lay individuals from around the world has renewed support for the cause for Elisabeth's canonization. A new website was created in June 2017, ELCause.org, to share information about Elisabeth, the cause and to provide a comprehensive list of sources (e.g. books, articles, videos, etc.) about Elisabeth.The website is currently available in five languages including: English, French, Italian, Portuguese and Spanish. The group issues a monthly reflection on some aspect of Elisabeth's life or writing.