There is a widespread opinion to the effect that in the Second Vatican Council's Declaration on Religious Freedom, Dignitatis humanae, [1] the Catholic Church belatedly accepted principles that had by that time come to be seen as self-evident in most of the civilized world. Some suspected that the Church was embracing a fundamental principle of the Enlightenment after having opposed it for three centuries. Writing in January 1965, John Courtney Murray maintained that the principle of religious freedom was "accepted by the common consciousness of men and nations. Hence the Church is in the unfortunate position of coming late, with the great guns of her authority, to a war that has already been won." [2]
Such interpretations might be justified if the Catholic Church had simply repeated what had already been recognized, for example, in the Universal Declaration of Human Rights of 1948. But the reader should not underestimate the essentially Christian and Catholic character of the council's teaching. For a better appreciation of these aspects one cannot do better than to follow the statements of John Paul II over the past thirty-five years. As a young bishop and, after 13 January 1964, archbishop, Karol Wojtyla took a keen interest in the conciliar declaration. Subsequently, as cardinal and pope, he has continued to celebrate the achievements of Vatican II, applying them to changing situations and interpreting them in the light of his own philosophical and theological perspectives.
In his Sources of Renewal, a book written in 1972 for a synod of his archdiocese of Kraków, Cardinal Wojtyla devoted considerable attention to religious freedom. He has returned to the same theme in a number of his encyclicals, such as Redemptor hominis, Centesimus annus, and Veritatis splendor, as well as in many of his speeches and in his book Crossing the Threshold of Hope. The following quotation from his World Peace Day Message for 1988 is indicative of the importance he attaches to the topic:
Religious freedom, an essential requirement of the dignity of every person, is a cornerstone of the structure of human rights, and for this reason an irreplaceable factor in the good of individuals and of the whole of society, as well as of the personal fulfillment of each individual. It follows that the freedom of individuals and communities to profess and practice their religion is an essential element for peaceful human coexistence. […] The civil and social right to religious freedom, inasmuch as it touches the most intimate sphere of the spirit, is a point of reference for the other fundamental rights and in some way becomes a measure of them.3
At Vatican II Bishop Wojtyla made no fewer than five interventions on religious freedom, two oral and three in writing.4 Thanks to criticisms such as his, the schema was significantly revised. In the initial stages it was little more than an effort to defend the Catholic Church from the charge of being intolerant. But in the end the document did far more. It set forth the basic principles of a positive theology of religious freedom quite different from the liberalism of the Enlightenment.
In his last two interventions, Archbishop Wojtyla expressed his satisfaction with the changes that had been made up to that time. John Paul II's understanding of religious freedom may be summarized under ten major headings, all of them touched on by the council's declaration.
A theological doctrine
Although the early drafts of the declaration seemed to treat religious freedom from a perspective similar to that of the Universal Declaration of Human Rights and the civil constitutions of many states, Archbishop Wojtyla, among others, insisted that it would be unworthy of the council simply to issue a repetitive statement of this type. The world, he said, was not looking to the council for a lesson in political philosophy. Presupposing these basic constitutional principles, the council should present the doctrine of the Church with its basis in divine revelation (IV, 11; V, 293).
The very principle of religious freedom, Wojtyla contended, was grounded in revelation, which affirms the dignity of the human person as a responsible subject made to the image and likeness of God and destined to enjoy eternal life in union with Christ the Redeemer (V, 11). According to a properly theological anthropology human persons, as moral subjects, achieve their full humanity by acting on their own initiative and with their own responsibility (Sources of Renewal, 23). This is eminently true in the realm of religion, since God cannot be rightly worshiped except by a free decision in the spirit and in truth (John 4:23; III, 767). Adherence to the Christian religion requires faith, a free acceptance of God's word and of his self-revelation in that word (Sources of Renewal, 23).
The early drafts of Dignitatis humanae, following a post-Enlightenment Scholastic methodology, began by expounding the doctrine as knowable by natural reason and then presented the additional insights obtainable from Christian revelation. Archbishop Wojtyla consistently urged the council to proceed in the opposite direction. Its teaching on religious freedom, he argued, was in fact based on revelation, which is required for human beings to be delivered from captivity to sin and error. If the principle of religious freedom could be perceived to some extent by the light of reason alone, so much the better (V, 293). But the Christian moral order, according to Bishop Wojtyla, "contains in itself the moral order of nature and all the rights of the human person, and yet elevates, animates, and sanctifies them" (III, 767).
As late as the fall of 1965, the schema of the declaration was still divided into a first chapter with the title "The Doctrine of Religious Freedom Taken from Reason," followed by a second chapter entitled "The Doctrine of Religious Freedom in the Light of Revelation." Karol Wojtyla objected that the two chapters taught the same doctrine of freedom from the vantage points respectively of reason and revelation. Revelation, however, gives a deeper understanding of the basis for religious freedom in the dignity of the human person (IV, 11; V, 293). To Wojtyla's satisfaction the words "Taken from Reason" were in the end stricken from the title of chapter 1.
In presenting the teaching of the council to his archdiocese of Kraków, Cardinal Wojtyla seemed to be satisfied with the strategy whereby the declaration had expounded the right of religious freedom "primarily on rational principles before proceeding in the second part of the document to expand on it from a theological standpoint, analyzing religious freedom in the light of Revelation."5
Again, in his first encyclical, Redemptor hominis, John Paul II pointed out that in Dignitatis humanae religious freedom was vindicated not only from a theological perspective but also "from the point of view of natural law, that is to say from a 'purely human' position, on the basis of the premises given by man's own experience, his reason, and his sense of human dignity" (RH 17).
While he expects Catholics to draw their doctrine primarily from revelation, the Pope is conscious of the practical advantages of presenting the doctrine as far as possible in terms that are meaningful to believers and nonbelievers alike.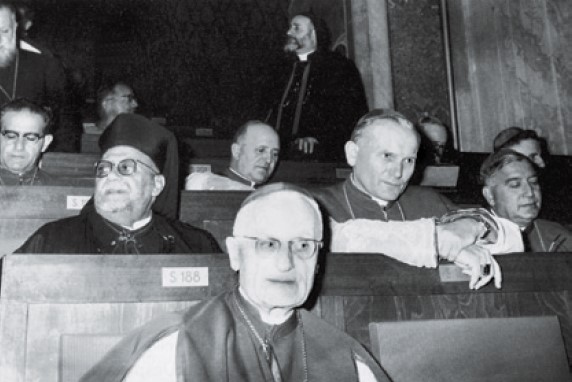 «Thanks to the input of bishops such as Wojtya, Dignitatis humanae proposed a positive doctrine of religious freedom based upon revelation as well as upon reason.» (Mons. Karol Wojtyla. Photography of Second Vatican Council's archive).
Positive and negative concepts
Some bishops and theologians, approaching religious freedom as a political problem, wanted the declaration to proffer a purely negative and juridical definition, namely, immunity from external coercion in the practice of religion. Wojtyla was among those who objected to this definition as partial and inadequate. As he put it, this definition corresponds to the notion of religious tolerance rather than freedom (III, 766). The merely negative definition could easily be exploited to promote unacceptable forms of liberalism or indifferentism (IV, 12).
It was imperative, therefore, to work with a positive conception of religious freedom, rooted in a theological understanding of the dignity of the person in relationship with God. In this perspective, freedom is not an end in itself but a means whereby men and women work out their destiny in a manner befitting their dignity as persons. Religious freedom makes it possible for them to commit themselves consciously and deliberately to the transcendent (III, 766; cf. Sources of Renewal, 23).
The positive conception of freedom makes it clear that human persons may not be considered as instruments of society, since society is instituted for their benefit. Religion may then be seen as the highest realization of human nature, consisting in the free, personal, and conscientious adherence of the human mind to God. Since religion by its nature transcends everything worldly, it should be evident that no human authority may interpose itself, coercing people in the intimately personal sphere in which they relate to God (I, 532; Sources of Renewal, 22). In the words of Dignitatis humanae, civil government "would clearly transgress the limits set to its power were it to presume
to command or forbid acts that are religious" (DH 3).
Freedom and Truth
Freedom is given to human beings so that they may personally attain and embrace what is truly good. According to the declaration all men are "at once impelled by nature and also bound by a moral obligation to seek the truth, especially religious truth. They are also bound to adhere to that truth, once it is known, and to order their whole lives in accord with the demands of truth" (DH 2).
These statements are in full agreement with the teaching of John Paul II. In his first speech at Vatican II he faulted the current draft of the declaration because it neglected to emphasize the dependence of freedom upon truth. "For freedom on the one hand is for the sake of truth and on the other hand it cannot be perfected except by means of truth" (I, 531). In this connection he quoted the words of Jesus, "The truth shall make you free" (John 8:32). This same theme continues to echo through the present pope's encyclicals. In Redemptor hominis he asserts that the words of Jesus just quoted:
Contain both a fundamental requirement and a warning: the requirement of an honest relationship with regard to truth as a condition for authentic freedom, and a warning to avoid every kind of illusory freedom, every superficial and unilateral freedom, every freedom that fails to enter into the whole truth about man and the world (RH 12).
In Veritatis splendor John Paul II traces many of the recent deviations in moral theology to the denial of the dependence of freedom on truth. Authentic freedom, he says, "is never freedom 'from' the truth but always freedom 'in' the truth" (VS 64). Later in the same encyclical he asserts: "The essential bond between Truth, the Good, and Freedom has been largely lost sight of by present-day culture" (VS84). In Centesimus annus he pursues the same theme
in its political ramifications:
It must be observed in this regard that if there is no ultimate truth to guide and direct political activity, then ideas and convictions can easily be manipulated for reasons of power. As history demonstrates, a democracy without values easily turns into open or thinly disguised totalitarianism. (CA 46)
Wojtyla's analysis of the self-destructiveness of freedom without accountability coincides to a great extent with the reflections of thoughtful writers such as Michael Polanyi and Václav Havel.6
Freedom and Responsibility
Avoiding the excesses of liberalism, Dignitatis humanae stated that "in the use of all freedoms, the moral principle of personal and social responsibility is to be observed" (DH 7). It also asserted: "Religious freedom, therefore, ought to have this further purpose and aim, namely that men may come to act with greater responsibility in fulfilling their duties in community life" (DH 8). These passages responded to the desires of bishops such as Wojtyla that the declaration should emphasize that human beings are responsible to God and to others for the use they make of their freedom. It is not enough, he reminded the Fathers, to say "I am free in this matter" unless one also says, "I am responsible." This, he said, is the doctrine of the Church of the confessors and martyrs. Responsibility is the necessary complement of freedom (IV, 12).
Commenting on Dignitatis humanae for his archdiocese, Cardinal Wojtyla repeated that liberty and responsibility are mutually interdependent. Unless we are free, we cannot be responsible; and conversely, we cannot evade responsibility for what we do freely (Sources of Renewal, 292).
Rights of conscience
The first draft of Dignitatis humanae seemed to base the right of religious freedom on the personal right to follow one's conscience. In later drafts this argument was significantly muted. Wojtyla would have agreed, I think, with the following statement of John Courtney Murray, one of the principal drafters of the declaration:
It is worth noting that the declaration does not base the right to the free exercise of religion on "freedom of conscience." Nowhere does this phrase occur. And the declaration nowhere lends its support to the theory for which the phrase frequently stands, namely, that I have the right to do what my conscience tells me to do, simply because my conscience tells me to do it. This is a perilous theory. Its particular peril is subjectivism the notion that, in the end, it is my conscience, and not objective truth, which determines what is right or wrong, true or false.7
According to Dignitatis humanae "the highest norm for human life is the divine law-eternal, objective, and universal-whereby God orders, directs, and governs the entire universe and all the ways of the human community, by a plan conceived in wisdom and love" (DH 3). The imperatives of the divine law become known to us through the mediation of conscience. For this reason we are bound to follow the judgments of conscience, even when it is erroneous.
Wojtyla, commenting on this teaching, contends that we have the right and duty to follow a certain and true conscience, but that we have no such right to follow an erroneous conscience, although we may have a subjective obligation to obey it. Strictly speaking, he said, conscience is not the means whereby we know the divine law, but only a means of applying the law to concrete acts (III, 766-67).
In Veritatis splendor John Paul II has a great deal more to say about conscience. He points out that the conception of conscience has been deformed by modern thinkers who have lost the sense of the transcendent. They often depict conscience as a supreme and infallible tribunal that dispenses us from considering law and truth, putting in their place purely subjective and individualist criteria such as sincerity and authenticity (VS 32). The voice of
conscience summons us to obey the law of God but does not by itself tell us what that law is. "Because it attests to a higher intelligence and will to which we are subject, conscience arouses a concern or anxiety to find out what course of action is here and now required to do good and avoid evil. Far from overriding authority, conscience on the contrary impels us to seek guidance from competent authority".8
Limits of religious freedom
An early draft of the declaration stated that no human authority was entitled to exercise coercion to prevent people from following an erroneous conscience. Archbishop Wojtyla commented that this statement should be amended to say that no human power has the right to exert pressure on human persons holding error unless they are doing harm to themselves or to others. Quite evidently parents and other legitimate superiors may exercise a certain pressure on erring persons, proportionate to the gravity of the danger, to prevent harm from being done (III, 768).
At another point the same draft stated that persons may be restrained in the exercise of religious freedom as required to safeguard the common good. This statement, Wojtyla objected, was open to misunderstanding unless false notions of the common good were excluded. In our utilitarian culture, the common good is often equated with the interests of a particular party (III, 768). A subsequent draft stated that religious freedom could be limited "according to juridical norms that were required by the needs of public order" (V, 292). Archbishop Wojtyla objected that this statement was likewise unsatisfactory because it could be understood as permitting human legislators to impose limits on a divinely given prerogative. Only divine law, he argued, could limit a divinely given right. He therefore proposed to substitute wording to the effect that abuses of religious liberty could not be forcibly restrained unless they were orally evil (V, 293; cf. IV, 12-13). Perhaps as a result of Wojtyla's intervention, the language of the text in numbers 2 and 3 was modified by the insertion of the word "just" before the words "public order."9
Social ramifications
Religious freedom has social ramifications. As stated in Dignitatis humanae, "the social nature of man itself requires that he should give external expression to his internal acts of religion; that he should participate with others in matters religious; that he should profess his religion in community" (DH 3). Wojtyla in his interventions at Vatican II had insisted, with the Polish situation in mind, that this right involves the freedom of individuals and communities to transmit their sincere convictions by bearing witness to their faith. It also implies the right of parents to have their children educated in accordance with their religious convictions. These rights are not adequately protected by the principle of tolerance alone (I, 532; III, 766).
In his first encyclical John Paul II protested against the denial of religious freedom to individuals and communities under totalitarian regimes of the day (RH 17). In his address to the United Nations General Assembly in 1979 he quoted the passage from Dignitatis humanae 3 cited above. The religious needs of individual persons, he stated, are not protected unless freedom is accorded to institutions that serve religion.10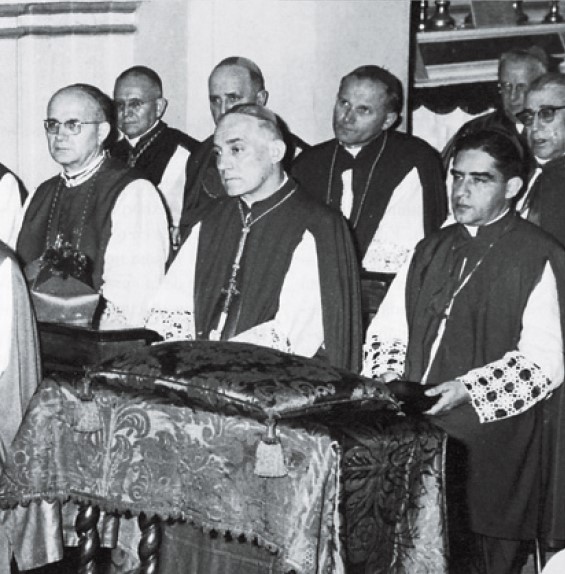 «Since the council, John Paul II has made religious freedom a central theme in his program for ecumenism and for situating the Church in the world of our day.». (Mons. Karol Wojtyla. Photography of Second Vatican Council's archive)
In an address of 1995 John Paul II called attention to another threat to religious freedom, which he called "more subtle than overt persecution." In many democratic societies, he pointed out, the citizens are put under social pressure to keep their religious convictions private and not to let them influence their public behavior. "Does not this mean," he asked, "that society not only excludes the contribution of religion to its institutional life, but also promotes a culture which re-defines man as less than what he is?"11 This question seems to be particularly pertinent in the United States, where it is taken as almost axiomatic that religion ought not to make itself felt in the public order.
Ecumenical Implications
The Declaration on Religious Freedom originated in the Secretariat for Promoting Christian Unity, where it was drawn up with the intention of removing a serious obstacle to relations with other Christian groups. The state in some traditionally Catholic nations had used its authority to inhibit non-Catholic organizations from publicly professing their faith and worshiping according to their conscience. When the document became separated from the Decree on Ecumenism, its initial preoccupation with the intolerance of established churches was expanded into a concern to vindicate religious freedom as a human right against whoever might oppose it, including atheistic regimes.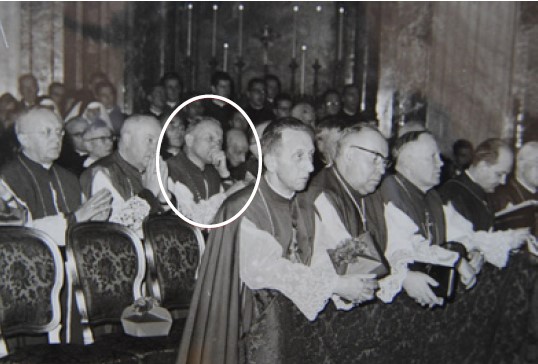 Mons. Karol Wojtyla. Photography of Second Vatican Council's archive.
Archbishop Wojtyla objected to the schema presented in the third session of the Council on the ground that it did not sufficiently distinguish between the issues of Church and state and those of ecumenical action. In the civil sphere, he said, the issue of toleration is central. But in the ecumenical sphere it is not enough to say that different religious groups should tolerate one another.
This program might simply harden the existing differences. The goal of ecumenical action is to overcome schisms and unite Christians in the truth. It should be clearly understood that the purpose of ecumenical dialogue is to make progress toward the full acceptance of truth by all participants. Nothing but the truth will liberate Christianity from its manifold separations (I, 531). Archbishop Wojtyla's interventions on this subject at Vatican II foreshadow one of the major themes of his pontificate. He is committed to ecumenism as a high priority, but ecumenism does not consist, for him, in ecclesiastical diplomacy. Christ, he holds, wills all his disciples not simply to be one, but to be one in the truth. In an address to the Roman Curia on 28 June 1980, he declared, "The union of Christians cannot be sought in a 'compromise' between the various theological positions, but only in a common meeting in the most ample and mature fullness of Christian truth."12 In his major encyclical on ecumenism, Ut unum sint (1995), he wrote: "The unity willed by God can be attained only by the adherence of all to the content of revealed truth in its entirety. In matters of faith, compromise is in contradiction with God who is truth" (UUS 18). John Paul II therefore denies that ecumenical or interreligious dialogue is an alternative to proclamation. Authentic dialogue, he asserts, includes proclamation as an inner dimension of itself. This refusal to compromise stands in perfect agreement with the teaching of Vatican II's Decree on Ecumenism, Unitatis redintegratio, which warned against a false conciliatory approach and insisted that the Catholic Church had alone preserved the full deposit of revealed truth and all the means of grace instituted by Christ (UR 4 and 11). Similarly, Dignitatis humanae teaches that God has made known the way of salvation by which we are to serve him and be saved in Christ. "We believe that this one true religion subsists in the catholic and apostolic Church" (DH 1). The declaration explicitly left intact "the traditional Catholic doctrine on the moral duty and men and societies toward the one true religion and toward the one Church of Christ" (ibid.). Religious freedom, therefore, does not foster indifferentism or relativism. The nature of the duties of society toward the true religion will be considered below, under the rubric of Church and state.
Religious violence
In paragraphs that John Paul II would frequently quote in his later writings, Dignitatis humanae taught that no coercion should be used to bring people to profess the true religion. In its second chapter it pointed out that the act of faith, being by its very nature free, cannot be coerced (DH 9). It called attention to the meekness and humility of Christ himself, who refused to impose the gospel by force (DH11). John Paul II agrees that "God absolutely does not want to force us to respond to His word" and that "man cannot be forced to accept the truth."13
Turning to the historical record, the declaration insisted that the Church has always taught that the act of faith must proceed from a free and conscientious decision, but it acknowledged that as the Church "has made its pilgrim way through the vicissitudes of human history, there have at times appeared ways of acting that were less in accord with the spirit of the gospel and even opposed to it" (DH 12).
The theme of penance for sins of violence committed in the name of religion was a major component of John Paul II's program for the celebration of the Great Jubilee of the year 2000. In his apostolic letter Tertio millennio adveniente of 1994 he recalled:
Another painful chapter of history to which the sons and daughters of the Church must return with a spirit of repentance is that of the acquiescence given, especially in recent centuries, to intolerance and even the use of violence in the service of truth. […] From these painful moments of the past a lesson can be drawn for the future, leading all Christians to adhere faithfully to the sublime principle stated by the council: "The truth cannot impose itself except by virtue of its own truth, as it wins over the mind with both gentleness and power." (TMA 35, quoting DH 1)
At the penitential service in St. Peter's Basilica on the first Sunday of Lent, 12 March 2000, the Pope asked God's pardon for sins of seven categories, among which figured sins of violence committed in the service of truth. Then on 23 March, speaking at the memorial to the Holocaust in Jerusalem, he expressed the deep sadness of the Catholic Church at the persecutions directed by Christians against Jews at any time and any place.14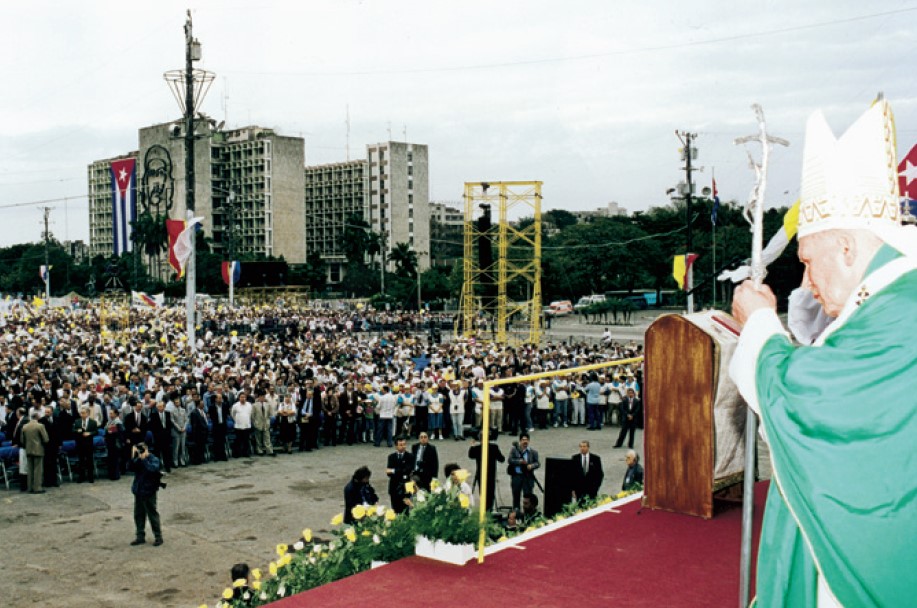 «When the Church demands religious freedom she is not asking for a gift, a privilege or a permission dependent on contingent situations, political strategies or the will of the authorities. Rather she demands the effective recognition of an inalienable human right. […] It is not a matter of a right belonging to the Church as an institution; it is also a matter of a right belonging to every person and every people.» (John Paul II addresses to a multitude gathered at Plaza de la Revolución, La Habana).
Church and State
In Dignitatis humanae Vatican II taught that the civil government should foster conditions favorable to religious life and safeguard the religious freedom of all its citizens. It rejected any union of Church and State that would authorize the State to force a particular religion upon the population or to prevent persons of different persuasions from publicly practicing or professing their religion. Some voices at Vatican II urged the council to rule out the idea of an established religion, but Cardinal Heenan of Westminster pointed out that the style of religious establishment that obtains in England today is entirely compatible with religious freedom. Thus the council contented itself with saying that "if special legal recognition is given to one religious body, the right of all citizens and religious bodies to religious freedom should be recognized and made effective in practice" (DH 6).
As noted above, the declaration also claimed to be leaving intact the traditional Catholic teaching concerning the duties of society toward the one true Church (DH 1). The Church's preeminent concern, it later declared, was that she "should enjoy that full measure of freedom which her care for the salvation of men requires" (DH 13). Paul VI, in a message to political rulers issued at the end of the council, put the question, "What does the Church ask of you today?" And he answered: "She tells you in one of the major documents of this council. She asks of you only liberty, the liberty to believe and to preach her faith, the freedom to love God and serve Him, the freedom to live and to bring to men her message of life. Do not fear her. […] Allow Christ to exercise his purifying action on society."15 These words prefigure the inaugural homily of John Paul II, in which he called on the nations of the world to "open wide
the doors for Christ."16
Following Dignitatis humanae and Paul VI, Cardinal Wojtyla in his Sources of Renewal refrained from calling upon the state to give any special privileges to Catholicism as the true religion. He asked only that it assure to the Church "true freedom to preach the faith, to proclaim its teaching about society, to carry out its task without hindrance, and to pass moral judgments even in matters relating to politics."17
In a 1988 visit to the Parliament of Europe at Strasbourg, John Paul II invoked the distinction made by Christ between the things that belong to Caesar and those that do not. "Integralism," which tends to exclude from the civil community those who do not profess the true faith, oversteps this boundary. Medieval Latin Christianity, in the Pope's estimation, failed to distinguish sufficiently between the spheres of civil and religious life. Even more deplorable was the early modern principle, Cuius regio eius religio ("The religion of the people is that of the ruler"), which led to forced conversions, cruel expulsions, and bloody martyrdoms.18 In our day the chief offenders against religious freedom have been Marxist atheistic regimes, but the exclusive establishment of certain non-Christian religions in various Asian and African nations has also caused difficulties. In the name of human rights the Pope protests against religious oppression wherever it exists. In the early years of his pontificate he mounted a very effective moral appeal against the Marxist governments in Central and Eastern Europe. In his 1998 visit to Cuba he returned to the theme of religious freedom in the following terms:
When the Church demands religious freedom she is not asking for a gift, a privilege or a permission dependent on contingent situations, political strategies or the will of the authorities. Rather she demands the effective recognition of an inalienable human right. […] It is not a matter of a right belonging to the Church as an institution; it is also a matter of a right belonging to every person and every people.19
Conclusion
Starting from the objection that Vatican II, in its Declaration on Religious Freedom, merely reaffirmed a principle already acknowledged in the law of most civilized nations, I have sought to show that while the declaration did accept the juridical concept of freedom as immunity from coercion it did not stop at that point. Thanks to the input of bishops such as Wojtyla, Dignitatis humanae proposed a positive doctrine of religious freedom based upon revelation as well as upon reason.20 According to this doctrine the right to freedom is grounded in the dignity of the human person as made to the image of God and as called to share in divine life through Jesus Christ. Freedom is oriented to truth and is a means of achieving personal union with God. This theological perspective, unlike utilitarianism and pragmatism, provides a solid rationale for understanding religious freedom as an inviolable right. Like all genuine freedom, religious freedom is inseparable from the true and the good. Inevitably, too, it entails moral responsibility. Since the council, John Paul II has made religious freedom a central theme in his program for ecumenism and for situating the Church in the world of our day. In some respects, such as in his rejection of integralism, his call for repentance for the religious violence of times past, and his denunciation of the contemporary tendency to confine religion to the private sector, he has gone beyond the council. Just as the conciliar declaration built on the prior work of recent popes, so it continues to bring forth, in interpreters such as John Paul II, things new and old.21 .
---
Notes
1. This declaration, approved on 7 December 1965, will henceforth be abbreviated DH.
2. John Courtney Murray, This Matter of Religious Freedom, America 112 (1965): 43. Again in his commentary on DH Murray wrote that the principle of religious freedom has long been recognized in constitutional law, so that "in all honesty it must be admitted that the Church is late in acknowledging the validity of the principle." See Walter M. Abbott, ed., The Documents of Vatican II (New York: America Press, 1966), p. 673.
3. John Paul II, Religious Freedom: Condition of Peace, World Peace Day Message, 7 December 1987, Origins 17, no. 28 (24 December 1987): pp. 493-94.
4. The numbers I through V in parentheses in my text refer to the following: (I) speech of 25 September 1964 in AS III/2, 530-32; (II) written intervention in AS III/2, 838-39; (III) written intervention in AS III/3, 766-67; (IV) speech of 22 September 1965, in name of the Polish bishops in AS IV/2, 11-13; (V) written intervention in AS IV/2, 292-93. The abbreviation AS refers to the Acta synodalia of Vatican II (Vatican City, 1970-78).
5. John Paul II, Sources of Renewal San Francisco. Harper & Row, 1980, p. 409.
6. Michael Polanyi, The Logic of Liberty (Indianapolis: Liberty Fund, 1998); Václav Havel, Living in Truth (London: Faber & Faber, 1987).
7. John Courtney Murray S.J., Commentary on Dignitatis humanae in Abbott, ed., Documents of Vatican II, 679 n. 5.
8. For further discussion of these points see Avery Dulles, "The Truth about Freedom: A Theme from John Paul II," in J. A. DiNoia, O.P., and Romanus Cessario, O.P., Veritatis Splendor and the Renewal of Moral Theology (Chicago: Midwest Theological Forum, 1999), pp. 129-42, at pp. 135-37.
9. Brian W. Harrison, in Religious Liber ty and Contraception (Melbourne: John XXIII Fellowship Coop Ltd., 1988), 99, traces a similar revision in DH 7 (the textual change from "public order" to "objective moral order") to the influence of Wojtyla's intervention.
10. John Paul II, "The U.N. Address," Address to the U.N. General Assembly, 2 October 1979, in Origins 9, no. 17 (11 October 1979): p. 265.
11. John Paul II, Message of 7 December 1995, to an International Conference on Secularism and Religious Freedom sponsored by the Becket Fund for Religious Freedom and held at the Pontifical Athenaeum "Regina Apostolorum." The text, signed by the Pope himself, is in L'Osservatore Romano (20/27 December 1995), 4 and 7.
12. John Paul II, "The Pope Reviews His Pontificate," Address to the Roman cardinals and members of the Curia, 28 June 1980, §17, in Origins 10, N. 11 (28 August 1980): p. 171.
13. John Paul II, Crossing the Threshold of Hope (New York: A. A. Knopf, 1994), pp. 189-90.
14. John Paul II, "The Depth of the Holocaust's Horrors," Origins 29 (6 April 2000): p. 679.
15. Vatican II, "Closing Message to Rulers," in Walter M. Abbott, ed., The Documents of Vatican II (New York: America Press, 1966), 730.
16. John Paul II, "The Inaugural Homily," Origins 8, no. 20 (2 November 1978): p. 307.
17. Wojtya, Sources of Renewal, 417, quoting Vatican II, Gaudium et spes 76.
18. John Paul II, "The United Europe of Tomorrow," Strasbourg, 11 October 1988, in Origins 18, no. 20 (27 October 1988): p. 332.
19. John Paul II, "Remarks to the Nation's Bishops," in Cuba, 25 January 1998, Origins 27, no. 33 (5 February 1998): p. 563.
20. I do not attempt in these pages to measure the influence of Bishop Wojtya as an individual. He was in contact with other bishops, not only Polish but also Italian and French. In many respects his input overlapped with that of Carlo Colombo, Giovanni Urbani, and Alfred Ancel, who spoke for numerous Italian and French bishops. The combined effect of their insistence on the grounding of freedom ontologically in truth is discussed by Walter Kasper in his Wahrheit und Freiheit: Die "Erklärung über die Religionsfreiheit" des II. Vatikanischen Konzils (Heidelberg: Carl Winter, Universitätsverlag, 1988), pp. 26-28.
21. This article is based on a lecture given at Oxford University under the sponsorship of the Becket Fund on 26 October 2000.